In this article we shall be looking at Cut off mark for Law in LASU and school fees.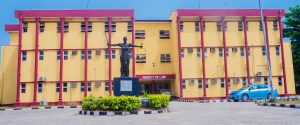 LASU Faculty of law
The Faculty of law of the Lagos State University was established on 1st October, 1986 as a component unit f the then Faculty of Law and Humanities.
In 1989, 'The Law Centre' as a semi- autonomous consultancy cum training unit of the Faculty was established. The Centre organized Conferences and Workshops. It also established two year evening Diploma in Law Programme.
The Institute of Maritime Law was approved by the University Senate in 1995 as a pioneering Research and Training Centre in Contribution to the development of the Maritime Industry in Nigeria.
In 1996, the FAculty commenced Postgraduate Programme in LLM which continue to provide academic and practical training at an advanced level to Lawyers and prospective academic.
The practice of LAw, business and public affairs continue to adjust to the impact of globalization and internationalization of core aspects of our legal, political and economic activities. our students and alumni are gradually responding to academic and cultural stimuli which the Faculty painstakingly provides through our various programs of Law delivery.
UNIOSUN faculty of law Departments
The following are the list of departments at UNIOSUN faculty of law. These are:
1- Public law and Private law
Cut off mark for law in LASU
The cut off Mark for LASU Faculty of law is 250 above.
LASU Law School fees
New Students is estimated to pay the sum of ₦180,000.
Returning students is estimated to pay the sum of N150,000.
100 level Law courses in LASU
The following are list of 100 level law courses offered at LASU. These are:
1- Legal Method
2- Logic and Philosophy thought
200 level law courses in LASU
The following are list of 200 level law courses offered at LASU. These are:
1- Law of Contact
2- Nigeria Legal System
3- Constitutional law
4- Introduction To Computer
5- Non Customary law
6- Islamic law
300 level law courses in LASU
The following are list of 300 level law courses offered at LASU. These are:
1- Criminal law
2- Law of Torts
3- Commercial Law
4- Industrial Law
5- Banking and Insurance Law
6- Criminalogy
400 level law courses in LASU
The following are list of 400 level law courses offered at LASU. These are:
1- Land Law
2- Equity and Trusts
3- Law of Evidence
4- Taxation
5- Law of Succession & Administration of Estate
6- Family Law
500 level law courses in LASU
The following are list of 500 level law courses offered at LASU. These are:
1- Jurisprudence
2- Company Law
3- Public Internation Law
4- Conveyancing Law
5- Environmental Law
6- Project