School
university of abuja cut off mark
In this article we shall be looking at University of Abuja, courses offered, school fees and hostel fees.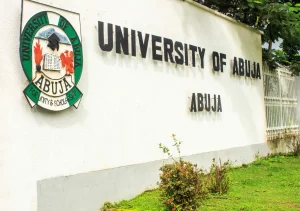 University of Abuja
The University of Abuja is a tertiary institution in the Nigerian capital, Abuja. It was established in January 1988 as a dual-mode university with the mandate to run conventional and distance learning programmes.
Academic work began in the University in 1990 with the matriculation of its pioneer students.
List of courses offered in university of Abuja
The following are the Courses offered in University of Abuja. These are:
1. ACCOUNTANCY/ACCOUNTING
2. AGRICULTURAL SCIENCE AND EDUCATION
3. AGRICULTURE
4. ARABIC STUDIES
5. BANKING AND FINANCE
6. BIOLOGY
7. BUSINESS ADMINISTRATION
8. CHEMICAL ENGINEERING:
9. CHEMISTRY
10. CHRISTIAN RELIGIOUS STUDIES
11. CIVIL ENGINEERING
12. COMPUTER SCIENCE
13. DRAMA/DRAMATIC/PERFORMING ARTS
14. ECONOMICS
15. EDUCATION AND ARABIC
16. EDUCATION AND BIOLOGY
17. EDUCATION AND CHEMISTRY:
18. EDUCATION AND CHRISTIAN RELIGIOUS
STUDIES
19. EDUCATION AND ECONOMICS
20. EDUCATION AND ENGLISH LANGUAGE
21. EDUCATION AND ENGLISH LANGUAGE
LITERATURE
22. EDUCATION AND GEOGRAPHY
23. EDUCATION AND HISTORY:
24. EDUCATION AND INTEGRATED SCIENCE:
25. EDUCATION AND ISLAMIC STUDIES:
26. EDUCATION AND MATHEMATICS
27. EDUCATION AND PHYSICS
28. EDUCATION AND SOCIAL STUDIES
29. EDUCATIONAL MANAGEMENT AND
PLANNING
30. ELECTRICAL ENGINEERING
31. ENGLISH AND LITERARY STUDIES
32. ENVIRONMENTAL EDUCATION
33. GEOGRAPHY
34. GUIDANCE AND COUNSELLING
35. HISTORY
36. ISLAMIC STUDIES
37. LAW
38. LIBRARY AND INFORMATION SCIENCE
39. LINGUISTICS
40. LITERATURE IN ENGLISH
41. MATHEMATICS
42. MECHANICAL ENGINEERING
43. MEDICINE AND SURGERY
44. MICROBIOLOGY
45. PHILOSOPHY
46. PHYSICS
47. POLITICAL SCIENCE
48. POLITICAL SCIENCE AND INTERNATIONAL
RELATIONS
49. PRIMARY EDUCATION STUDIES
50. PUBLIC ADMINISTRATION
51. SOCIOLOGY
52. STATISTICS
53. TEACHER EDUCATION SCIENCE:
54. VETERINARY MEDICINE
university of abuja cut off mark
The official cut of Mark of university of Abuja is 180.
university of abuja school fees
The school fees of university of Abuja is estimated to be N43,000.
hostel university of abuja
The hostel accommodation of university Abuja is estimated to be N20,000.
university of abuja address
Address: Main Campus KM 23 Airport -Giri Road Abuja, FCT, Nigeria Location: Abuja, Nigeria; Telephone Number: +234 818 6889912 ; Email Address: info@uniabuja.