School
Ahman Pategi University Patigi
Ahman Pategi University patigi is named after the late Galadima of Patigi and former Minister of Agriculture and Health in the First Republic, Alhaji Ahman Pategi, a close associate of Sir Ahmadu Bello, Premier of the Norther Region. It was established by his son, Hon. Aliyu Bahago Ahman-Pategi, the Galadima of Patigi, an astute grassroots mobiliser and philanthropist.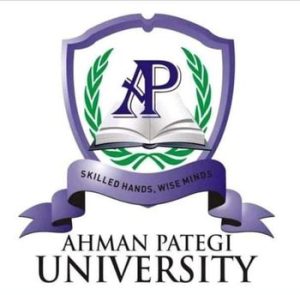 Ahmam Pategi University Pategi
Ahman Pategi University is one of the 20 private universities approved by the Federal Executive Council of the Federal Government of Nigeria on February 3, 2021. It is located on a 200-hectare parcel of land in Patigi, the headquarters of Patigi Local Government Area of Kwara State, Nigeria, Some 164 kilometers from Ilorin, the State capital. Patigi is on Latitude 8o 51' North, Longitude 5o 25' East and an altitude of 420 feet above the sea level.
Patigi provides an agrarian community and conductive environment for academic activities. The community is rich in natural resources fish, rice sugar cane, ground nut, millet and melon while mineral resources like granite, clay, kaolin, columnite, gold, quartz, iron ore, oolitic, tak and tonistone are also abundant in the area. The natural and mineral resources of Patigi are a boon to the commitment of the University to making a difference in agriculture and its allied disciplines as a way of impacting on the socio-economic development of the hosting community.
Ahman Patigi University courses
The Ahman Pategi University currently has 10 Departments.
Department of Languages & Literary Studies.
BA. English
Department of Economics
BSc Economics
Department of Accounting
BSc Accounting
BSc Taxation
BSc Entrepreneurship
Department of International Relations
BSc International Relations
Department of Mass Communication
BSc Mass Communication
Department of Biological Sciences
BSc Plant Science & Biotechnology
BSc Microbiology
Department of Chemical Science
BSc Industrial Chemistry
Department of Computer Sciences
BSc Computer Science
BSc Cyber Security
BSc Software Engineering
Department of Forensic Science
BSc Forensic Science
Department of Physics
BSc Physics with Electronics
Ahman Pategi University Courses are wide in terms of scope of coverage. The above are the Courses offered in Ahman Pategi University, Patigi, Kwara State.
Ahman Pategi University cut off mark
The general Cut off mark for Ahman Pategi University is 160.
Ahman Patigi University fees
DEGREE PROGRAMMES TUITION
B.A. English N180,000
B.Sc. Economics N320,000
B.Sc. Accounting N380,000
B.Sc. Taxation N320,000
B.Sc. Entrepreneurship N400,000
B.A. International Relations N268,000
B.Sc. Mass Communication N313,000
B.Sc. Plant & Biotech N300,000
B.Sc. Microbiology N300,000
B.Sc. Industrial Chemistry N190,000
B.Sc. Computer Science N317,000
B.Sc. Cyber Security N390,000
B.Sc. Software Engineering 390,000
B.Sc. Forensic Sciences N420,000
BSc. Physics with Electronics N320,000
Hostel Fee N90,000
PRE-DEGREE PROGRAMMES TUITION
ARTS BASED COURSES N100,000
SCIENCE BASED COURSES N110,000
How to apply Ahman Pategi University
Applicants for our degree programmes should pay the sum of seven thousand (N7,000) naira only as admission processing fee and should also request for change of institution from their JAMB portal and pay the sum of two thousand five hundred (N2,500) naira only to JAMB.
Applicants for Pre-Degree programmes are to pay the sum of seven thousand (N7,000) naira only as admission processing fee.
Students from the University's catchment area are eligible for up to 30% scholarship.
APU offers students the opportunity to pay tuition in two instalments per session.
Ahman Patigi University portal
Ahman Pategi University Admission List
To Check admission list Click here
For Further Enquiry, Contact Admissions Officer on: Jedidiah Edidiong 08087593757