School
Delight College of Health Minna
Delight College of Health Minna is a Private Tertiary Healthcare Training Institute, with Post Office Box registration number of 2556 Adjacent Crystal FM 91.3 Maitumbi, Minna, Niger State.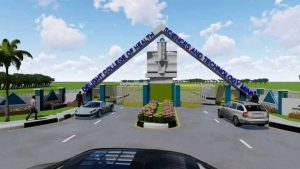 Delight College of Health Sciences and Technology Minna
The Institution is approved by the Federal Government of Nigeria under the Company and Allied Matter Act 1990 (as amended) with Registration no: RC-1658931. It has a Provisional approval from the Niger State Ministry of Tertiary Education. And the institution is duly registered and accredited with Public Health Practitioner's Registration Council of Nigeria.
The Institution was born out of peoples' quest for a stronger formal and sophisticated Health Care delivery system. Also, to bridge the gap and create access to tertiary education, especially for the underprivileged Nigerians. The idea was as a result of the realization of huge expenses and trouble involved in the process of gaining admission into Tertiary Institutions by the underprivileged persons in Nigeria.
We at Delight College of Health Sciences and Technology believe that Primary Health Care must be a progressive program aim at the continuous improvement of the health of man. It mostly relies on scientific knowledge of public health, essential drugs, health education, management skills and techniques of community mobilization. The value of Primary Health Care Services must, at all times, be appreciated by the community to achieve its objectives. We also believe in building a society with individuals that are well informed, with health matters and feel encouraged to put into practice such health concepts. That will create a high level of physical, mental and social wellbeing of the entire citizenry.
DELIGHT COLLEGE OF
HEALTH APPLICATION FORM
The need for responsibility in human resource development, capacity building, training, research, and professional competency certification, and policy advocacy in the current dispensation couple with the current challenges of complex epidemic and other emerging and new re-emerging health problems necessitated the advent of School to cushion the health challenges faced by our people.
Courses offered in Delight college of Health Minna
1. Community Health (CHEW / JCHEW)
2. Environmental Health (EHT/EVT))
3. Medical Laboratory Technician (MLT))
4. Health Information Management)
5. Dental Health)
6. Public Health)
7. Health Promotion And Education)
How To Apply Delight College of Health
The applicants eligible for admission to National Diploma, programs at the College must possess prerequisite qualifications as prescribed in the management. No
application for admission shall be considered outside the criteria.
DELIGHT ENTRY REQUIREMENTS
1- Prospective candidates must write the Entry Examinations.
2- Must have applied for a course in Delight College of Health Sciences and Technology, Minna, and must have scored an aggregate to be determined by the College before they are deemed eligible in subjects relevant to the program applied for.
3- Prospective candidates must have obtained a minimum of Five (5) passes at Credit level in the Senior Secondary School
Certificate Examination (SSCE or Equivalent) conducted by the West African Examinations Council (WAEC) or the National Examinations Council (NECO) in not more than two (2) sittings, including a pass at credit level in both English, Mathematics Physics Chemistry, Biology and other subjects relevant to the candidate's chosen field of study.
Delight Application Procedure
The interested candidates can obtain the application form through the following:
(1) pay to the following banks;
a. Sterling Bank
Account number: 0080722806
Account name: Delight College of Health Sciences and Technology, LTD
b. Zenith Bank
Account number:1214686015
Account name: Delight College of Health Sciences and Technology, LTD
After payment has been made into the above-listed account details, you can take the Bank teller to the office of the Registrar for the collection of the application form
Delight College of Health School Fees
You may want to know how much is Delight College of Health School Fees.
The School Fees is estimated to be N150,000 for New Students.
Delight College of Health portal
For more inquiries call:
08064247087
08062511635
08178768885
07053638797
09055394126
07066677549