School
Police secondary school minna
Police Secondary School Minna, is a Federal secondary school situated at Dutsen kura, Minna, Niger State.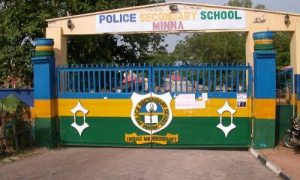 History of Police Secondary School Minna
Police Secondary School  was established in 1992. And it was Built by Nigerian Police Force in 1992 under the regime of General Ibrahim Badamasi Babangida.
The school is both Day and Boardin. This is a co-educational institution and all its students are residents for effective learning.
Right from inception, the school has set itself apart from other schools in Niger. In 1994, the first set of students were presented for
the Junior School Certificate Examination and in 1997, the first batch of senior students were fielded for the Senior School Certificate Examination. High successes recorded in these examinations earned the school recognition as a reputable institution of learning in the country. Inevitably, the school witnessed an astronomical rise in its enrollment which called for immediate expansion in classrooms and hostel accommodations. The school is well equipped with teaching and boarding facilities.
Police secondary school minna School Fees
The school fees of Police Secondary School is estimated to be N60,000 to N80,000.
Police Secondary School Hostel
Police Secondary school has good environment and good atmosphere that will be conducive in learning.
The hostel fees of police secondary School Minna is estimated to N10,000 to N15,000.