In this article we shall be looking at List of Law schools in Nigeria.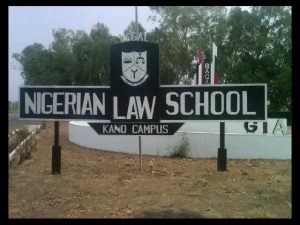 Law schools in Nigeria
The Nigerian Law School is an educational institution set up by the Government of Nigeria in 1962 to provide a Nigerian legal education to foreign-trained lawyers, and to provide practical training for aspiring Legal Practitioners in Nigeria. Until the school was established, legal practitioners in Nigeria had received the requisite training in England and had been called to the English Bar.
list of law school in nigeria
The following are the list of Nigeria law school campuses. These are:
1- Abuja campus Headquarters – located in Bwari
2- Lagos Campus
3- Enugu Campus
4- Bayelsa Campus
5- Kano campus
6- Yola Campus.
Brief History of Nigerian Law School
Campuses
1. Abuja Campus was established in town of Bwari near Abuja in 1997.
Abuja Law School Campus Address
:
Bwari, P.M.B
170, Garki, Abuja.
E-mail: info@lawschool.gov.ng
Phone: +2349068057726
2. Lagos Campus was set up in 1962, moving to its current location in 1969.
Lagos Law School Campus Address
Ozumba Mbadiwe Street,
Victoria Island, P.M.B.
12610, Lagos, Nigeria.
+234(1)2714986
+234(1)8105305
info@lawschoollagos.org
3. Enugu Campus: The Augustine Nnamani Campus is located in Agbani,
Enugu State.
4. Kano Campus Bagauda, Kano State.
5. Bayelsa Campus Yenegoa, Bayelsa State.
6. Yola Campus Adamawa State.
Nigerian law school requirements
The required you to have your L.L.B in any of approve institution or recognize institution in Nigeria and abroad.
Nigerian law school fees
The school fees for law school is estimated to be N500,000.
Nigerian Law School Bar 1 courses
1- Criminal litigation
2- Civil Litigation
3- Property law
4- Corporate law.
Nigerian Law School Bar part2 courses
The Law School offers course in criminal and civil litigation, property and corporate law, as well as a course in ethics. Over 70,000 students have graduated from the
Nigerian Law School.
Anyone who has obtained a University degree in law and wants to practice as lawyers in Nigeria must attend the Nigerian Law School. The Council of Legal Education gives certificates to students who pass the Bar Part II examinations, and these students are then called to the
Bar.
Best law school in Nigeria
The following are the list of Best law school in Nigeria.
1- Lagos Campus
2- Abuja Campus
3- Enugu Campus
4- Kano Campus
5- Yanagua Campus
6- Yola Campus