Nupe Food Eyanbici be Eni zowa e.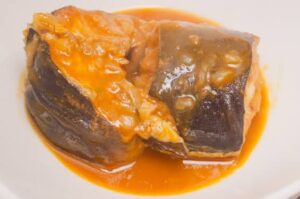 In this article, we shall be discussing the following:
Food
From the book "Nupe People of Nigeria" Author by Muhammad Kuta Yahya.
He wrote:
A major staple food that is common to many households in Nupe land is rice. This is prepared either as joloff rice or in the form of "eje boci" (mashed) rice. The reason for this development is due to the fact that majority of the farmers both within and around fadama lands (Low land marshy areas) which allow for the cultivation of rice, in communities like Jima, Doko, Edozhigi, Bacita, Katcha, Gbara etc have rice production as a major and profitable venture. Hence, the explanation.
Why rice is a common feature in households' diet
in Nupeland. Another delicacy that goes with rice is fish; both smoked and fresh fish are in abundance, especially from adjoining tributaries around Rivers Niger and Kaduna. All villages and towns around the bank of these rivers and other smaller rivers engage in fishing activities all year round.
It is a tradition in Nupe land to welcome visitors with delicious meals from rice and fish soup. Also, during ceremonies such as naming or marriage ceremonies as well as festivals like Sallah (end of Ramadan) Id-El-fir or Id-Kabir celebrations, rice feast is a common feature.
Other food types include mashed meal "eje boci" which Hausas refers to as "tuwo" from – sorghum, millet, and maize. These are served on alternate basis with beans, cooked yam, potatoes and garri. Sometimes beans is mixed with "Yiwara" (ground sorghum) or millet sprinked on beans after conversion into paste form. Other common foods are porridge from millet, sorghum or maize called "Kunu". This is consumed along with certain snacks like akara (bean cake), "masa" sorghum cake, "mashe" (early millet cake) or "Dankuwa" special confectionery from acombination of fried ground nut and maize and lastly Kuli-Kuli made from groundnut after extraction of groundnut oil, where the paste from that process is fried; this is popular with students as African "biscuit". These snacks are very important in Nupeland because they facilitate "casual" eating especially among children when they like to soak garri and drink along with these snacks of interest. Most significantly, they are used to take breakfast when served as porridge.
This also brings to focus, the consumption of "left over" (Jekun) that is cooked with fresh ingredients.
Jekun is the second cooking of left- over food from previous supper. This left-over is from "eje boci" (mashed food) of rice, millet, sorghum or maize origin.
Several dishes are served with specific soups in Nupeland. Some of these soups are stew made of tomatoes with either meat, chicken or fish. It is good for all kinds of food; it goes with "eje boci", white rice, yam, etc. Other soups are Ezowa (bean soup) significant for "eje boci" from rice and vegetable soup that is sometimes mixed with melon that is served along with "eje boci" rice.
Others are Ningbana (from liquid ground sorghum). Ningbana is delicious if served with left-over (Jekun) second cooking of left-over food. Other common soups are from Herbiscus Sobderifa (Calyx) known as "Emagi", Okro soup, Baobab leaf soup (Kuka) among others.
One significant soup ingredient in Nupe land is "Kula" processed locust bean that is Nupe's version of "Dadawa" (Hausa) and "Iru" (Yoruba).
Nupe traditional food
By: Fatima Isah Gbangban
Food is anything we eat and make us survived.
Nupe people has many food. These include:
Eje yikuru
Yanboci
Mashed
Madi
Kunu kamu
Banbara efan
Banbara edzu
Gbankuru
Gbwarwagi
Biboci
Dzagagi e.t.c.
Nupe pap
The following are the nupe pap.
Kunu kamu
Kunu kanwa
Kunu tsatsa
Kunu jekafa
Kunu Dara
Kunu elo- nuwan
Kunu Banga
Kunu gunba
Kunu emu
Nupe soup
The following are the nupe soup. These are:
Eni danci
Eni masantogi
Eni kpwatwakpwatwangi or enigi kocita
Eni warami
Eni kin lagi
Eni emagi
Eni nugbere
Eni zowa
Eni kpakunkpaku /ebeshe/kokeni
Eni nigbanna
Eni Mani
Eni nibolo
Eni gwakangi
Eni kanci
Eni ekpingi
Eni danma
Eni fungi etc
The best nupe Tranditional food is enyaboci be zowa e(matching rice with beans soup)
Nupe cultural soups
By: Fatima Muhammad Majahidu
Nupe cultural soups are the most sweetest among all in the Africa, and the most lovable soup is "beans soup" they're very proud of the soup, because majority people recognises and like than any other ones and also in a healthy way is a protein, culturally.
Nupe do make soup for their family every week ones or twice for them to know and understand how important the soup is in Nupe culture. It's undermost, if Nupe man has any celebration or occasion to observe, beans soup most be prepared, because it's part of their traditional soup since their forefathers. they have different types of soups, as follow:
(1)Grinded millet soup—Eni Ningbana
(2)Okro soup—-Eni Kpanmi
(3)Eni zowa—-Beans soup
(4)Eni emagi—Hisbiscus soup
(5)Dry okro soup—Eni Tsuku
(6)Baobab soup—Eni kuka
(7)Fresh fish soup—-Eni yikan funfuru
(8)Mellon soup—Eni epingi
(9)Pumpkin soup—Eni ebeshe
(10)Masantogi, Alefa,—-Vegetable soups
(11)Ninbolo
(12)Nungbere
Have found this post useful or inspiring?
Do let us know your thought by commenting below.