Etsu nupe is the etsu of all nupecizhi in the world.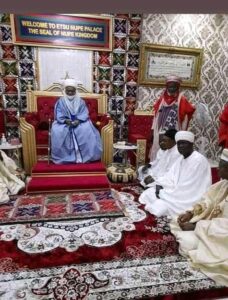 In this article, we shall be discussing the following:
Etsu of nupe.
This is a traditional tittle conferred to only Emir of Bida as the etsu of all nupe people.
Emir of nupe is the leader of all nupezhi in the world. Be who you are, one's you're a nupe. Emir of nupe is your king.
You may want to know the position of other etsuzhi in kinnupe? Example:
Emir of Agaye.
Emir of Patigi
Emir of Lafiyagi
And any other etsuzhi in kinnupe.




The question will be better be answer as; all the Etsuzhi in kinnupe are under his Royal Highness "Etsu Nupe". It will be better we say Emir of nupe is also the the Etsu of Etsuzhi in kinnupe.
Emir of Agaye, Emir of Lapai, Emir of lafiyagi, Emir of Patigi e.t.c are all representative of there places. Each head the nupe of his locality.
As kinnupe is very large, their is need we have many kings as we have it today. And among these kings, their is need they have a leader to be the eyeball of the kingdom. That is the Reason why Emir of bida was chosen to be head of these Kings. And this is not restricted to a particular person or a ruling king. This tittle is given to the Emirate.
As history has it, Bida Emirate is not the first Emirate to be confer with title of Etsu nupe. Perhaps it might shift one day but for now Bida Emirate owns the tittle of Etsu of nupe.
There are three houses in Bida where Etsu of Nupe rotates. These are:
(A) USMAN ZAKI HOUSE
(B) MASABA HOUSE
(C) UMARU MAJIGI HOUSE
Since the beginning of Bida Emirate, these are the three houses that are ruling the Emirate.
Who is the first etsu nupe
Usman Zaki, became the first Etsu of Nupe in 1832.
List of Etsu nupe
The following are the pass etsu of nupe. They are:
1- Usman Zaki 1st Etsu-Nupe From 1832 To 1859. He ruled for 27 years.
2. Masaba 2nd Etsu-Nupe from 1859 to 1873. Rule for 14 years.
3. Umaru Majigi 3th from 1873 to 1884. Ruled for 11 years.
4. Maliki 4th from 1884 to 1895. Ruled for 11 years.
5. Abubakar 5th fom 1895 to 1901. Ruled for 6 years.
6. Muhammadu 6th from 1901 to 1916. Ruled for 16 years.
7. Bello 7th from 1916 to 1926. Ruled for 10 years.
8. Saidu 8th from 1926 to 1935. Ruled for 9 years.
9. Muhammadu Ndayako 9th from 1935 to 1962. Ruled for 27years.
10. Usman Sarki 10th from 1962 to 1969. Ruled for 7 years.
11. Musa Bello 11th from 1969 to 1975. Ruled for 6 years.
12. Alhaji (Dr.) Umaru Sanda Ndayako, from 1975 to 2003.
13- Alhaji Yahya Abubakar from 2003 till date.
Emir of nupe
The Emir Nupe is the traditional title for the most superior Emir of Nupe land. The Emir of Nupe is a first class chief. Nupes are found predominantly
in Niger State, which lies in the North Central geo-political zone, signifying the extent of the Emir's influence. They are also found in Kogi State.
Who is Etsu of nupe
His Royal Highness Alhaji Yahya Abubakar.
Etsu nupe palace
The Etsu of Nupe palace is located in Bida West in Niger State, along Wuya-Bida Road, next to Bida Local Government Secretariat.
The Etsu of Nupe palace is referred to in local dialect of Hausa as Hakorin Giwa, and Yikan
Dagba in the original Nupe language, interpreted in English as elephant's tusk, and it serves administrative, cultural and social purposes.
The Etsu of Nupe palace was constructed in about 1935 by Muhammad Egba.
Etsu of Nupe palace, among other traditional palaces holds a rich cultural heritage in the North Central region of Nigeria.
These are the past events that brought about the present and future of nupe emirate.
Etsu nupe net worth
His Riyal Highness Alhaji Yahaya Abubakar has an estimated net worth of approximately $800,000 US Dollar.
Have you found this post useful or Inspiring?
Do let me know your thought by commenting below.