School
ROLIM School of Health Minna
The ROLIM School of Health Minna is a new private monotechnic that was approved amongs the many institutions approved under president Muhammadu Buhari.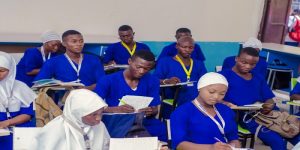 ROLIM School of Health
Rolim College of Hygiene and Health Sciences is private tertiary health institution for the Award of National Diploma situated in Fadikpe behind second antenna, Dutsen kura, Minna, Niger state, Nigeria.
Courses offered in ROLIM School of Health Minna
1- Diploma in CHEW (community health extension worker) And JCHEW
2- Diploma in DENTAL SURGERY TECHNICIAN.
3- Diploma in ENVIRONMENTAL HEALTH TECHNICIAN.
4- National Diploma in HEALTH INFORMATION MANAGEMENT.
5- Diploma in MLT (MEDICAL LABORATORY TECHNICIANS.
6- Diploma in HEALTH EDUCATION AND PROMOTION
ROLIM School fees.
You may want to know how much is ROLIM School Fees?
ROLIM School fees is Estimated to be N120,000 for Freshers.
Returning students pay less than N100,000
For more information.
Please contact school
Registered Address: NO:13, FADUKPE DUTSEN KURA ROAD, MINNA, NIGER STATE.
OR the following numbers (09086490060, 08067646634,08072842666