School
Depotter college of health Technology.
In this article we shall be looking at depotter college of health school fees and Courses.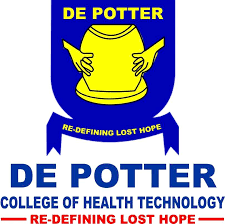 Depotter college of health Technology
De Potter College of Health Technology is a privately ownedrCollege of Health Technology duly and fully registered with Corporate Affairs Commission and approved by the Ogun State Ministry of Education, Science and Technology.
The College is managed by seasoned tutors and administrators. The College is accredited by regulatory boards and bodies in Nigeria to run all the courses regulated by the Boards concerned in addition to other courses that the college is legally empowered by law to run.
The College offers medical training for prospective health workers in Community Health, Environmental Health, Public Health Nursing, Science Laboratory Techniques, Health Information Management and Computer Studies. The training is available to fresh secondary school graduates (who are interested in health-related courses), graduates who desire further training in health disciplines, as well as in-service students and other persons with health related qualifications.
The College offers standard laboratories which satisfy the requirements of the curriculum and a stocked library that has passed the acid test of accreditation teams, a library which eases the book needs of the students as well as spacious and well-ventilated classrooms which support the tedious work required for the medical field to guide the students through research, both paper- based and online as well as community diagnosis. The college e-library with modern computers and internet facilities is also complementary.
Apart from the strictly academic matters, the school devoted time for the well-being of its students. Hostel facilities are provided for students who are interested with necessary
amenities and adequate water/electricity supply. Other events like sports, Fresher's day, SUG activities and Health Week all complement the teaching and learning process. We invite and encourage you to be a part of the proud legacy of this institutions and build yourself or your wards, providing the much needed skills to fit into a fast- changing world.
Depotter college of health Technology Courses
In this article we shall be looking at depotter college of health Technology Courses and school fees.
1- Medical Laboratory Technician
2- Health Assistant (Medical)
3- Environment Health Assistant
4- Health Education and Promotion
5- Junior Community Health Extension Workers (JCHEW)
6- Community Health Extension Workers (CHEW)
7- Health Information Management
8- HND in Environmental Health Technology
9- ND in Environmental Technology
10- Environmental Health Technican
11- Computer Studies
12- Food Hygiene
Depotter College of Health school fees
The school fees of depotter college of health Technology is estimated to be N120,000.