Debate
How to start a debate greeting
In this article we shall be looking at how to start a debate greeting, Types of debate and example of Debate.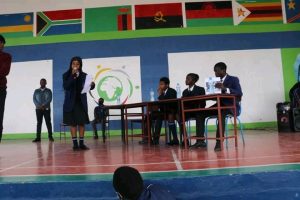 what is a debate
Debate is an argument, or discussion, usually in an ordered or formal setting, often with more than two people, generally ending with a vote or other decision.
Debate is an informal and spirited but generally civil discussion of opposing views.
(Frequently in French form débat) a type of literary composition, taking the form of a discussion or disputation, commonly found in the vernacular medieval poetry of many European countries, as well as in medieval Latin.
Debate introduction
The debate Introduction goes like this:
Good day Mr. Chairman, the Moderator, impartial Panel of Judges, Accurate Time Keeper, Co-debators and the Audience. I stand here this morning to uphold the proposition that says farmers are more beneficial to the society than engineers.
Farmers are the life wire of every nation but first and foremost, who is a farmer and what is the work of an engineer?
A farmer or farming can be defined as an occupation in which growing of crops and rearing of animals or the raising of livestock is the major concerned to feed the entire nation for the survival of all living things whereas engineer is the one or a person who makes the life easier for people by constructing the bridges, roads that lead one state to another and also inventing a machine that makes the work easier and very fast for men. Of all these, you would realize that farming occupation is the first job man has found and practiced on earth for the means of survival, shelter and thus living in a good shape of health by using the herbs being extracted from the farm produce.
This is berief introduction of school debating.
How to end a debate
To make a conclusion in debate is very simple. See the example below.
In conclusion, it's paramount to state here that no man on earth nor even the so called engineers can survive in 3 days without food which is very essential to human life and his existence in this world. I'm Idris Tauheed. I'm in SS3 and also the head boy of Government Day Secondary School, Gbadafu. Thanks!
How to end a debate speech first speaker example
To handover a debate for a second speaker just say the following:
At this junction I will like to call my second speaker to elaborate more on farmers are more beneficial to the society than engineers. Thank you.
examples of debate
The following are full example of school Debating:
Farmers are better than Engineers