Mantafien is a village under Gbako Local Government, Niger State, Nigeria. Its on the A124 highway in the west of the area at 9°03′00″N 6°09′00″E / 9.05000°N 6.15000°E . It has an area of 1,681 km2 and a population of 122,176 according to the 2015 census. The postal code of the area is 912.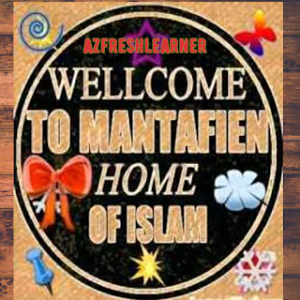 Mantafien is the second largest village in Gbako Local Government Area after Edozhigi.
Historian are yet to confirm the first settlers of mantafien.
The name Mantafien as it is written today by the majority of the people, but the
standard written in nupe language is mantafyan.
Mantafyan is a conjuction of two words, "Mamman" and "Tafyan", that is "mammantafyan" as its corrupted today as Mantafyan or mantafien.
In the 21st century, Mantafien was not a single settlement but actually villages, closely namely:
1.Ezhi Mamman and
2.Ezhi Tafyan.
Mamman is a compound of "Man" (Nupe word for schoolar) and Tafe, Tafien or Tafyan (The great Hunter).
It was reported that In the old Nupe the word "Mamman" and "Tafe" will translates in to English as (Great Scholar) and (Great Hunter), Mamman
(The great Islamic Scholar) was the great grand father of the late Sheikh Muhammad Awal Mankashi, and Their is beautiful story about him being called mankashi.
it was reported that the father of mankashi was a very pious man at the same time he was an "Aaleem" (schoolar).
the incident was, their was some group of people who happen to pass-through this man house (great grandfather of mankashi) and went to nearby village to sell their goods, so the goods is very heavy and they use to suffer alot before getting to the market, where they will sell their goods, so by him seing this, being a pious man he fell sorry for them, and he happend to stop them and buy all the goods from them. so by doing this, they ascribe him as "man kashi" (schoolar who stop the people of goods and buy it.)
in 21st century, Mamman settled near Banti River while Tafyan settled near Kusodo river.
It was said that it was the valleys and the rivers (Banti and Kusodo) that attracted the first settlers.
In those earlier days Banti and Kusodo was a big network of streams, people from nearby villages such as:
Lemu
Zannagi
Jankidi
Washigi
Ebiko
Batako and others, do come to the village yearly for
fishing festival.
Mantafien is categorize in to two groups:
1.Mantafien Tifi (mantafien up).
2.mantafien Tako (mantafien down).
Some of the houses in mantafien Tifi are as follows;
1.Emi e woro.
2.Mawogi.
3.Emi e ndatsuzhi.
4.Gbagun.
5.Emi e dzanzhi
6.Emi e Ndace Bolozhi.
7.Emi e Gabizhi (popular know as Emi e limanzhi).
8.Emi e mama usadakun
9.Gbancitako.
10.Emi e lakinzhi. e.t.c
Some of the houses in mantafien Tako are as follows:
1. Emi e worongi.
2. Emi e tsuyankpazhi (this house was the first house in mantafien).
3. Gbarafu.
4. Emi e Alhaji Alfa.
Any contribution, observation and correction towards this History of mantafien is highly welcome. you can easily contact us @
Email=alzakariyah10@gmail.com
whatsapp=+2347068749346
Acknowledgement
This work would not have been possible without the help and support of some eminent people who in one way or the other contributed to the success
of this great work. My gratitude goes to my
research collegue Muhammad Ali Aliox who dedicated his time for me each time I chat at him on Facebook regard to this great work. Also My younger brother Yusuf Zakari Aliyu mantafien who contribute on one way or the other for the successs of this work. May Allah S.W.A reward them
abundantly.Ameen.
A house without a roof is an uncompleted house! My special acknowledgedment goes to my mother Aisha Usman mantafien (popular knows as yasha)
she also contribute a lot through the success of this great work. May Allah reward her abundantly. Ameen.
long live mantafien people.
long live mantafien youth.
long live Niger state.
God bless Nigeria.