Nupe Dressing is the topic of today.
By Fatima muhamnad Majahidu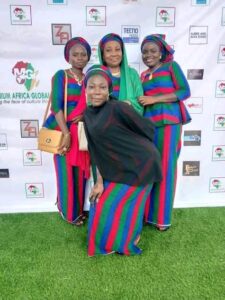 In this article, we shall be discussing the following:
What is the origin of Nupe?
Firstly, who are Nupes? In short, Nupes called themselves Nupe, and they're speaking Nupe. The first person that speak Nupe in the world is Agba bin Annafi. Their Neighbors are; Hausa, Gbagy, and Yoruba.
Nupes are described as the kind of people who like living in riverine area.
Nupes are warriors, fishermen and farmers.
Nupe Culture
Culture is described as the total way of life of people, Such as their foods dressing marriage dancing greetings, Facial mark e.t.c.




Nupe dressing, nups people have the most richest, beautiful and colourful culture in the whole Africa, in term of their foods (Enyagicizhi) Marriage (Yawojin) Greetings (Emisazhi) Dancing (Enyanya) dressings (Ewofon) respect (Cinwan) Facial mark (Etsa) creativity (Enyatswa).
Nupe Facial marks
(Etsa Nupencizhi)
1-Kpele nini
2- Nwannwan finba
3-Etsa eyagi
4-Mungoro fini
5-Kalangu
6-Yegunla
7-Eyesa
8-Kpele guta
9-Jekafagi
10-Kpatsungi/Etsa koro E.t.c
Nupe dressing
Nupe people dress fully without living any parts of their body outside except their face and legs, in olden days their ladies (Nyatsugi) tie two yards of wrapper (Ede tsukun guba) with cloth and hair tie (Rufuta) and two yards (Ede tsukun guba) as veil (Ede tikpe) to cover all their body.
And for the old women, they tie two yards on their waist and two yards on top of the cloth, and they also tie two and half yards of wrapper which is called "Ede ladan" the "Ede ladan" is sew in this way; the two yards of wrapper will be cut into two pieces and they will put one yard at the center of the two yards and sew it together, that makes the wrapper bigger, with cloth and hair tie with two yards of wrapper to cover all their body. For men, their dressing is ewoko be nindan toh tsanka be Fula e.
Nupe cultural dress
(Ede Dandan Nupencizhi)
In Africa, nupe dressing, most people recognise Nupes with the popular Nupe attire, which is Ede Eko kpara, and Ede kpasa, Nupe kpasa edumana contain three colors, and each of the colors has it meanings. It represent Nupes as Farmers, warriors, and Fishermen. The colors are green, blue and red. The red stand for:-warriors, Green stand for:-Farmers, and the blue stand for:-Fishermen. Apart from the two popular wrappers, there are so many others, which include the followings:-
Ede zongun
Ede kata boci
Ede Doko
Ede Sokun/Asibi bafin
Nnadzwa ebwa
Kokontaba
Eko kpara
Kpara gogi/Ego kpara
Dini e gi gogo egun o
Bishe bako
Ede Kpasa
Ede Masalaci
Ede Aa Ba Ca Da/Abcd
Ede Gute
Ede giyeko
Ede fefe
Ede Bici bishe
Ede Mamugi cinzhin/Mungoro
cinzhin
Ede makpalaya
Ede shelu
Ede elogi
Ede emi kwankwa
Ede kukumadi
E.T.C.
Nupe cultural days
(1)National Nupe day
(2)Wedding Nupe day
(3)Farming day
(5)Magic Race day
(6)Horse Race day
(7)Fishing day
(8)Local wrestling day
Nupe day
(Efo Nupencizhi)
The Nupe day is a traditional and a celebration made in Nigeria every 26th of June, the celebration is made by all the Nupes around the community every year. This day is celebrated to mark the only day Etsu Bubakar defeated the British colonial, and the remembrance of the day started since when the 15th Etsu Nupe Alhaji Dr, Yahaya Abubakar Bagadozhi comes to the throne. People gathered from different angle of Nupe land to mark this day with prayers, and also with their cultural dressings, playing with horses and mascurades, magicians also play their roles, banding and dance to mark and remembered the beautiful and unforgettable day in Bida.
-Wedding Nupe day(Yawo)
Wedding it's celebrated by a Nupe daughter a day before her marriage, to showcase her culture and tradition, the parents, relatives, friends, Neighbors and others gathered for the celebration of her getting married.
Farming day(Efo enunu)
-Farming day is a festival celebrated in kinnupe to show that they're real farmers and how important farming is in Nupe land and Nigeria at large, and to show they're the majority farmers in Nigeria.
-Magic Race day(Efo enyamacizhi)
Magic race day is a traditional day for all the magicians in Nupe community, they show their magics how strong and powerful powerful they are.
-Horse Race day(Efo eci man Doko)
Horse race day:-is a traditional day of celebration for all Nupes, they bring out all horse in the Nupe community to play and round all the center city of Nupe land.
-Fishing day(Efo Rigata)
Fishing day is a traditional festival celebrated in kinnupe to recognises and to remembered that Nupes are fishermen, people come out to competite, they will sink inside water for some minutes and whosesoever bring our the most biggest fish will be the winner of the competition, and people will dance and celebrate the day with happiness.
-Local wrestling day(Gani)
Local wrestling day is celebrated once in a year in one side of Nupe land, it's a fight between peoples in other to show their power and to know the most powerful person among and among them and to identified the winner, it was there since our fore father day.
Have found this post useful or Inspiring?
Let us know your thought by commenting bellow.