School
ogun state college of health technology
In this article we shall be looking at ogun state college of health technology courses offered.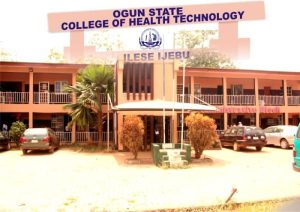 ogun state college of health technology
Ogun State College of Health Technology, Ilese-Ijebu was established on 28th September, 1976 as a School under a department in the Ministry of Health during the Military Administration of Col. Saidu Balogun At-inception, the institution was located temporarily at Itamogiri in Ijebu East Local Government in 1982. The primary objective of the College is to train middle level manpower for the delivery of Primary Health Care services for the State. Interestingly, the College has since surpassed this mandate by providing quality health care workers for primary, secondary and tertiary health care delivery system not only for Ogun State but also for neighbouring states and federal institutions.
Being the first tertiary institution in the State, its general importance to the overall primary health care delivery in the State, as well as being the single largest producer of primary health care workers accounting for over ninety percent (90%) of the total health manpower needs of the twenty local governments in the State; the impact of its contribution to primary health care spurred the state government to upgrade it to a College with polytechnic status and the required Legislation House Bill number 27 was enacted and signed by the then Governor of the State. The Law is cited as Ogun State College of Health Technology Law, 2004 as amended in 2008.
The College occupies a wide expanse of land from Ilese township road, almost reaching the Sagamu-Benin express road. This gives ample room for expansion and development.
The College has had a total of twelve (12) Principals with Dr. Adetunji Dawodu, JP been the pioneer Provost following its upgrading to full Polytechnic.
Ogun State College of Health Technology courses
The following are the list of courses offered at Ogun State College of Health Technology.
List of Diploma Programs
1- Nutrition and Dietetics
2- Water and Sanitation Technology
3- Medical Social Work
4- Psychosocial Rehabilitation
5- Ophthalmic Medical Assistant
6- Computer Science
7- Health Promotion and Education
Application Fee: N12,500
List of Certificate Programmes
1- Junior Community Health
2- Health Care Assistant
Application Fee: N12,500
List of Technician Programmes
1- Pharmacy Technician
2- Community Health
3- Medical Laboratory Technician
4- Medical Imaging Processing Technician
5- Paramedic Technology
6- Health Care Technician
7- Environmental Health Technician
8- Dental Surgery Techniques
9- Health Information Management (Technician)
Application Fee: N12,500
List of National Diploma Programmes
1- Dental Therapy
2- Dental Technology
3- Health Information Management (ND)
4- Environmental Health Technology
Application Fee: N2,000
Note: This year's JAMB result is required.
List of Higher National Diploma Programmes
1- Public Health Nursing
2- Dental Therapy
3- Dental Technology
4- Health Information Management
5- Environmental Health Technology
Application Fee: N12,500
Sandwich Programme
1- Health Technician (Retraining) Part-Time
Application Fee: N7,500
ALSO READ School fees and Admission Requirements for Ogun State college of health Technology
Ogun State College of Health Technology Contacts
PMB 2081, Ijebu-Ode, Ogun State, ogunstate
+2348053855314, +2348067448680
cotech06@yahoo.com