In this article we shall be looking at udusok cut off mark, courses offered, school fees and hostel accommodation.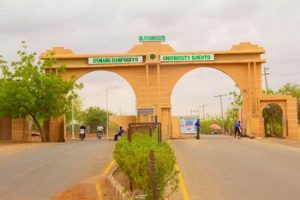 usman danfodio university sokoto
The Usmanu Danfodiyo University, Sokoto Also known as UDUSOK is one of the four Universities established by the Federal Government of Nigeria in September 1975, at which time three University Colleges (now full-fledged Universities) were established. The development of the university started on a temporary site (now called City Campus), situated along Sultan Abubakar Road, Sokoto. classes started in October 20th, 1977, with an initial enrolment of ninety-three undergraduate students for the degrees of Bachelor of Arts, Bachelor of Arts/ Science in Education and Bachelor of Science; and an academic staff strength of thirty-three.
In January, 1978, one hundred and two students enrolled for a two-year pre-Degree Programme in the Humanities and Basics Sciences. With this modest start, the Usmanu Danfodiyo University, Sokoto formally graduated a total of seventy-two students during its first convocation held in November 22nd, 1980.
udusok courses
The following are the list of courses offered in Usman danfodio University sokoto.
1. Sociology and Anthropology
2. Banking and Finance
3. Business Administration
4. Public Administration
5. Agriculture
6. Fisheries
7. Forestry / Forest Resources Management
8. Arabic Studies
9. English Language
10. Literature In English
11. French
12. Hausa
13. History
14. Islamic Studies
15. Linguistics
16. Civil Engineering
17. Electrical / Electronics Engineering
18. Mechanical Engineering
19. Environmental Resources Management
20. Information and Communication
Technology
21. Education and Chemistry
22. Education and Mathematics
23. Education and Biology
24. Education and Islamic Studies
25. Education and French
26. Education and Geography
27. Education and History
28. Education and Physics
29. Education and English Language
30. Education and Hausa
31. Education and Arabic
32. Pre-Primary and Primary Education
33. Adult Education
34. Education and Economics
35. Law
36. Common and Islamic Law
37. Dentistry and Dental Surgery
38. Medical Laboratory Science
39. Nursing / Nursing Science
40. Medicine and Surgery
41. Pharmacy
42. Radiography
43. Veterinary Medicine
44. Biochemistry
45. Physics
46. Pure Chemistry
47. Applied Chemistry
48. Geology
49. Statistics
50. Botany
51. Zoology
52. Mathematics
53. Microbiology
54. Computer Science
55. Biology
56. Economics
57. Geography
58. Political Science
59. Sociology
udusok cut off Mark
The official cut off Mark of udusok is 180.
udusok school fees
The school fees of udusok is estimated to be N35,000
udusok hostel fees
The hostel accommodation of udusok is estimated to be N15,000