Uganda
victoria university uganda fees structure
In this article we shall be looking at victoria university uganda fees structure, courses offered, Admission Requirements and Hostel Accommodation.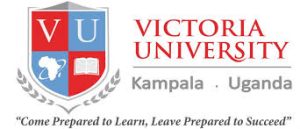 victoria university uganda
Victoria University Uganda, also known as Victoria University Kampala, is a university in Uganda, accredited by the Uganda National Council for Higher Education. It offers short, professional, diploma, undergraduate and postgraduate courses.
victoria university uganda courses
The following are the list of courses offered in victoria university uganda. These are:
1- BACHELOR OF BUSINESS ADMINISTRATION
2- BACHELOR OF PUBLIC ADMINISTRATION AND MANAGEMENT
3- BACHELOR OF SCIENCE IN OIL AND GAS
4- BACHELOR OF SOCIAL WORK AND SOCIAL
ADMINISTRATION
5- BACHELOR OF BANKING AND FINANCE
6- BACHELOR OF INTERNATIONAL BUSINES
7- BACHELOR OF SCIENCE IN NUTRITION AND
DIETETIC
8- BACHELOR OF ENVIRONMENTAL HEALTH
SCIENCE
9- BACHELOR OF MIDWIFERY SCIENCE
10- BACHELOR OF NURSING SCIENCES
11- SCIENCE IN PUBLIC HEALTH
12- BACHELOR OF INFORMATION TECHNOLOGY
13- BACHELOR OF BUSINESS INFORMATION
SYSTEMS
14- BACHELOR OF COMPUTER SCIENCE
15- BACHELOR OF TOURISM AND HOTEL
MANAGEMENT
16- BACHELOR OF INTERNATIONAL RELATIONS AND DIPLOMATIC STUDIES
17- BACHELOR OF HUMAN RESOURCE
MANAGEMENT
18- BACHELOR OF JOURNALISM AND MEDIA
STUDIES
19- BACHELOR OF PROCUREMENT AND LOGISTICS
20- BACHELOR OF SCIENCE IN OIL & GAS
ACCOUNTING
masters courses at victoria university uganda
The following are Master's courses offered in Victoria University.
1- MBA – MASTER OF BUSINESS ADMINISTRATION
2- MA-PAM – MASTER OF ARTS IN PUBLIC
ADMINISTRATION AND MANAGEMENT
SHORT COURSES IN VICTORIA UNIVERSITY UGANDA
The following are the list of short Courses in Victoria University Uganda. These are:
1- DIGITAL MARKETING AND SOCIAL MEDIA
FOUNDATION MATHEMATICS
2- ENGLISH LANGUAGE FOR UNIVERSITY
STUDENTS
3- EFFECTIVE WRITTING AND COMMUNICATION
4- ENTREPRENURIAL DEVELOPMENT STUDIES
5- SPSS-STATISTICAL PACKAGE FOR SOCIAL
SCIENCES
6- ENGLISH LANGUAGE COURSE
7- INTRODUCTION TO THE OIL AND GAS INDUSTRY
8- CERTIFICATE IN HEALTH, SAFETY AND
ENVIRONMENTAL MANAGEMENT IN THE OIL
AND GAS INDUSTRY
9- CERTIFICATE IN OIL AND GAS SUPPLY CHAIN AND LOGISTICS MANAGEMENT
10- CERTIFICATE IN OIL AND GAS PROJECT
MANAGEMENT
11- EXPORT TRADE PROMOTION
12- CERTIFICATE IN SUSTAINABLE MICROFINANCE
13- BASIC COMPUTER APPLICATIONS
14- CISCO CERTIFIED NETWORK ASSOCIATE (CCNA)
15- CISCO- IT ESSENTIALS
16- WRITING FOR COMPETITIVE GRANT FUNDING
17- COMPREHENSIVE MANAGEMENT OF STI'S AND HIV
18- PUBLIC HEALTH IN COMPLEX EMERGENCIES
19- PUBLIC HEALTH SURVEILLANCE AND
EPIDEMIC /OUTBREAK MANAGEMENT
20- RESOURCE MOBILIZATION AND PROJECT
21- PROPOSAL WRITING FOR HEALTHCARE / PUBLIC HEALTH WORKERS
22- NUTRITION SURVEYS PLANNING, MANAGEMENT, DATA ANALYSIS USING ENA
SOFTWARE, REPORT WRITING AND DISSEMINATION
23- PUBLIC HEALTH NUTRITION
24- PROGRAM / PROJECTS MONITORING AND EVALUATION
25- FIRST AID PRESENTATION AND PUBLIC SPEAKING COACHING AND MENTORING
RECORDS AND INFORMATION MANAGEMENT IN THE 21ST CENTURY
26- FINANCE FOR NON-FINANCE MANAGERS
27- SOCIAL MEDIA AND PUBLIC RELATION
28- CUSTOMER SERVICE EXCELLENCE
29- LEADERSHIP FOR THE 21ST CENTURY
EXECUTIVES
30- ENTERPRISE DEVELOPMENT & MANAGEMENT
31- AGENT BANKING FOR AGENTS
32- FINANCING YOUR BUSINESS CREATIVELY
ASSET MANAGEMENT
33- TAX COMPLIANCE FOR SMES & INDIVIDUALS
34- REAL ESTATE MANAGEMENT
35- PROPOSAL WRITING AND GRANT MATCHING FOR NOT-FOR-PROFIT ORGANISATIONS
36- BUILDING A CONSULTING BUSINESS
37- REMOTE BUSINESS MANAGEMENT
38- PROJECT PLANNING AND MANAGEMENT
39- ENGLISH LANGUAGE
40- CCTV INSTALLER COURSE
41- FAST TRACK SOCIAL MEDIA MARKETING
42- DIGITAL MARKETING SPECIALIST [ONLINE COURSE]
DIPLOMA PROGRAMS in Victoria University Uganda
The following are list of diploma courses in Victoria University Uganda. These are:
1- DIPLOMA IN PROCUREMENT AND LOGISTICS MANAGEMENT
2- DIPLOMA IN INTERNATIONAL RELATIONS & DIPLOMATIC STUDIES
3- DIPLOMA IN BUSINESS INFORMATION SYSTEMS
4- DIPLOMA IN INFORMATION TECHNOLOGY
5- DIPLOMA IN TOURISM & HOTEL MANAGEMENT
6- DIPLOMA IN JOURNALISM AND MEDIA STUDIES
7- DIPLOMA IN HUMAN RESOURCE MANAGEMENT
8- DIPLOMA IN BUSINESS ADMINISTRATION
9- DIPLOMA IN BANKING AND FINANCE
fees victoria university uganda
The school fees of Victoria University is estimated to be UGX360,000.
victoria university uganda hostels
The hostel accommodation of Victoria University is estimated to be UGX20,000.
Visit Victoria University Uganda.https://www.vu.ac.ug/