School
unimaid post utme
Unimaid courses
In this article, we shall be looking at unimaid post utme, courses offered, cut off Mark, school fees, hostel accommodation and it's diploma courses.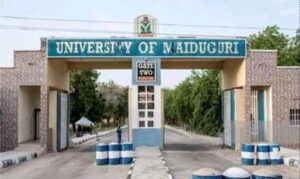 History of Unimaid
The University of Maiduguri (UNIMAID) is a Federal higher institution located in Maiduguri, the capital city of Borno State in northeast Nigeria. The university was created by the federal government of Nigeria in 1975, with the intention of its becoming one of the country's principal higher-education institutions. It enrolls about 25,000 students in its combined programs, which include a college of medicine and faculties of agriculture, arts, environmental science, Allied health science, Basic medical science, dentistry, education, engineering, law, management science, pharmacy, science, social science, and veterinary medicine. With the
encouragement of the federal government, the university has recently been increasing its research efforts, particularly in the fields of agriculture, medicine and conflict resolution, and expanding the university press.
The university is the major higher institution of learning in the north- eastern part of the country.
You may want to know the following:
What is the motto of Unimaid?
The Motto of Unimaid is "knowledge is light"
When was Unimaid Established?
Unimaid was Established in 1975.
Who is the Chancellor of Unimaid?
The Chancellor of Unimaid is Chief Oba Lamidi Olayiwola Adeyemi
Who is the Vice Chancellor of Unimaid?
The Vice-Chancellor of university of maiduguri is Professor Aliyu Shugaba.
UNIMAID Post UTME 2022
University of Maiduguri (UNIMAID) has now open it portal for Post-Unified Tertiary Matriculation Examination (PUTME) and Direct Entry screening exercise.
Any Applicant, who wish to apply can now apply online.
Unimaid Requirements for post UTME
Post UTME/DE Screening Eligibility & Requirements Candidates who applied for admission into degree programmes of the University of Maiduguri for the 2021/2022 Academic Session and have scored 140 and above in the UTME, and a minimum of Lower Credit/ Merit in Diploma, 9 points in NCE/IJMB or Second Class Lower Division from a recognized institution for Direct Entry.
(Note that this screening exercise is also open to candidates who did not choose the University of Maiduguri during their UTME registration)
How To Apply for UNIMAID Post UTME Form
Candidates are to pay the sum of two thousand naira (N2000) only for the registration including bank charges.
To register, candidates must proceed as follows:
1. Visit http://putme.unimaid.edu.ng
2. Type your UTME Number as username and password. Both are case sensitive.
3. Enter valid and accessible e-mail and phone number and click on Process Payment
4. You will be directed to REMITA to make the paymernt.
5. Make PAYMENT as follows
a. For Card payment you will be sent OTP from REMITA to your phone number and E-mail, which you will use to complete the payment
b. For Bank Payment, you will print the payment slip with RRR and make payment at the bank
6. On successful payment using card, you wil be returned to the dashboard. you paid at a bank, you will login again using description in Step 2.
7. Click on verify payment to verify your payment.
8. Your name and course applied for will be displayed on the dashboard.
9. You will be directed to the biodata page, fill your details and click next
10. Fill your next of kin details and click next
11. Finally provide your O'Levels results. Indicate the number of sittings (maximum of two), and select the certificatets) obtained. Provide the examination dates) and number(s).
12. For DE applicants, in addition to 11 above, you will provide Higher Education Certificate details to include Institution Attended, Date of Graduation, Certificate Obtained and Grade obtained.
13. Click next and upload the image of the documents indicated in 11 and 12 above.
The documents should be saved as image
14. You will be redirected to the dashboard
15. Review your submissions and if necessary.
16. Once satisfied, click on submit.
17. Upon successful completion, the message "Application Submitted successfully it can not be altered.
18. You will NOT be invited for physical screening or aptitude test; you will be notified once Admitted through CAPS.
Unimaid cut off mark
The general cut off mark of University of Maiduguri is 160.
What is the cut off mark for MBBS in UNIMAID?
The MBBS cutoff mark is 250 and above.
UNIMAID cut off mark for Pharmacy
The cut off mark for pharmacy is 200 above.
UNIMAID cut off mark for Nursing
The cut off mark for Nursing is 200 above
What is the cut off mark for physiotherapy in UNIMAID?
The cut off mark for physiotherapy is 190 above.
UNIMAID cut off mark for Law
Law (private and public law) is 250 above
L.LB and shariah is 190 above.
UNIMAID cut off mark for Veterinary medicine
Veterinary medicine is 220 above.
UNIMAID cut off mark for engineering
All engineering cut off mark is 200 above.
UNIMAID cut off mark for Mass communication
Cut off mark for Mass communication is 190
UNIMAID cut off mark for Biochemistry
Cut off mark for Biochemistry is 190
For more information kindly Contact Us here
Unimaid portal
Website: Unimaid.edu.ng
University of Maiduguri courses
The following are the list of courses offered in University of Maiduguri. These are;
Accountancy / Accounting
Adult Education
Agricultural And Management Engineering
Agricultural Engineering
Agricultural Science and Education
Agriculture
Anatomy
Animal Science
Arabic Studies
Banking and Finance
Biochemistry
Botany
Business Administration
Business Education
Chemical Engineering
Chemistry
Civil Engineering
Computer Engineering
Computer Science
Creative Arts
Dentistry And Dental Surgery
Dentistry and Dental Technology
Economics
Economics / Geography / Physics
Education and Arabic
Education and Biology
Education and Chemistry
Education and Economics
Education and English Language
Education and Geography
Education and Geography / Physics
Education and Hausa
Education and History
Education and Islamic Studies
Education and Mathematics
Education and Physics
Education and Science
Education Arts
Electrical / Electronic Engineering
English Language
Environmental Biology
Fine Art
Fisheries
Food Science and Technology
Forestry And WildLife
French
Fulfulde
Geography
Geology
Hausa
Health Education
History
Industrial Chemistry
Industrial Design
Islamic /Sharia Law
Islamic Studies
Kanuri
Law
Library Science
Linguistics
Linguistics and Kanuri
Linguistics and Fulfulde
Marketing
Mass Communication
Mathematics
Mechanical Engineering
Medical Laboratory Science
Medicine and Surgery
Microbiology
Natural and Environmental Studies
Nursing / Nursing Science
Petroleum Chemistry
Pharmacy
Physical Education
Physics
Physiotherapy
Political Science
Public Administration
Radiography
Sociology and Anthropology
Statistics
Teacher Education Science
Veterinary Medicine
Zoology
University of Maiduguri school fees
Unimaid school fees defer from department to department. Some faculty pay equal school fees while others pay differently.
If you want to enquire for your department school fees kindly contact the number below.
Call us
Unimaid Notable alumni
Professor Babagana Umara Zulum, Governor of Borno State.
Abubakar Sani Bello Governor of Niger State.
Hadiza Sabuwa Balarabe Deputy Governor of Kaduna State
Sen Ahmad Ibrahim Lawan, Senate President of Nigeria
Sen Bala Mohammed, Governor of Bauchi State.
Umar Buba Bindir, Nigerian Agricultural engineer and incumbent Director-General of the National Office for Technology Acquisition and Promotion (NOTAP)
Lt-Gen Tukur Yusuf Buratai, Chief of Army Staff, Nigeria
Sen Lawal Yahaya Gumau, Nigerian Politician
Professor Andrew Haruna, Nigerian academic, and Vice Chancellor of Federal University Gashua
Okezie Ikpeazu Governor of Abia State.
Ibrahim Kpotun Idris, former Inspector General of Police, Nigeria
Orji Uzor Kalu, Former Governor of Abia State.
Mele Kyari, Group Managing Director of Nigerian National Petroleum Corporation
Jude Rabo, vice-chancellor of Federal University, Wukari
Aliyu Shugaba incumbent vice chancellor of University of Maiduguri
Danladi Umar, Nigerian Jurist
UNIMAID Diploma Courses
The following are diploma courses in Unimaid. These are:
Diploma in Mass Communication (DMC)
Diploma in Civil Law (DLC)
Diploma in Accounting (DAC)
Diploma in Social Work (DSW)
Diploma in Computer Science (OCS)
Diploma in Information Technology (DIT)
Diploma in Biology Education (DSB)
Diploma in Chemistry Education (DSC)
Diploma in Physics Education (DSP)
Diploma in Mathematics Education (DSM)
Diploma in Science Laboratory Technology (OSTI)
Diploma in Banking and Finance (Dar)
Diploma in Marketing
Diploma in Business Administration (DBA)
Diploma in Arabic Studies (DAS)
Diploma in Islamic Studies (IS)
Diploma in Public Administration(DPA)
Diploma in Health and Social Service Administration
Diploma in Politics and Development Studies (DPO)
Diploma in Visual and performing Arts (DVPA)
Diploma in Pharmacy Technician
Diploma in Economics
Diploma in Conflict-Based Education
Diploma in Early Grade Reading (DEGR)
UNIMAID Diploma Admission
Requirements
Requirements:
Passes in four 4 Academic Subjects at credit level in the WAEC, SSCE, NECO, NABTEB or
General Certificate of Education (GCE) at not more than two sittings, two or more of which must be relevant to the field of study Passes in 4 academic subjects at credit or merit level in the Teachers Grade 2 Certificate at not more than two sittings, two or more of which must be relevant to the field of study.
How to Apply for UNIMAID Diploma Admission Form
Applications forms are obtainable from the Diploma and Certificate Programmes unit, (Science Complex) University of Maiduguri PMB 1069 Maiduguri upon the payment of four thousand naira N4000 into UNIMAID consult Account with UNIMAID Microfinance Bank Maiduguri and fidelity bank Nigeria plc.
Completed Application forms must be returned to the Diploma and Certificate Programmes unit, the University of Maiduguri.
Have you found this useful or inspiring?
Let us know your thought by commenting below.