In this article, we shall be discussing Investment platforms in Nigeria.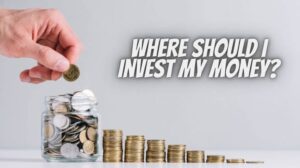 According to Wikipedia.org"Investment is the dedication of an asset to attain an increase in value over a period of time.
Investment requires a sacrifice of some present asset, such as time, money, or effort.
In finance, the purpose of investing is to generate a return from the invested asset. The return may consist of a gain (profit) or a loss realized from the sale of a property or an
investment, unrealized capital appreciation (or
depreciation), or investment income such as
dividends, interest, or rental income, or a combination of capital gain and income. The return may also include currency gains or losses due to changes in the foreign currency exchange rates".
Where can I invest my money in Nigeria?
To know where to invest your money in Nigeria is something that you can figure out and that is the reason why you are here. They are many Investment platforms in Nigeria, which you can invest your money online and that is what we provided in this post.
The mistakes we make now a days expecially the younger generation, we all think that going to school and have good grade will make you rich not knowing that is not the purpose of going to school. The purpose of school is to have good and sound knowledge which you could use to benefit yourself and society.
The purpose of schooling is not a job but knowledge. The primary objectives of school is to share knowledge. But once you have the knowledge, you have everything at your finger tips, But fortunately, most of those who claimed to have knowledge today have know idea about how money works.
They only taught us how to work for money instead of how we can make money work for us.
Many people fear poverty but unfortunate for them they don't want take risk in time of Investing money in a business. If really you want to become rich you must think the way rich men think, if not you will never become a rich.
Pull out your fear. If you are fearing of loosing a money in a business, then you must accept to be poor for ever. Saving your
money in your bank account will not save you from bankrupt.
Invest your Money in any business that you think it can increase your wealth. When investing, you must invest wisely because that will help you know how to grow your mindset toward success. As I always says to my fellow members of Vision with Action cooperative "we must not look at the risks in the business, we must find the way to manage the risks in the business. That is when we will win."
I once wrote in my facebook timeline that "If you thinks going to school and have a good grade will guaranty you a better job and become rich, you are wrong!Change your mindset and Amend your goal".
Many people attack my post by saying how can I even say that. Most people don't look at things the way they should, all they are after is Critics. You must not look the same. If you want to be rich you must think like a rich people. Don't ever think to work for anybody. Always thinks how you will makes money work for you.
I remembered a book I read by Kiyosaki which he tittle "If you want to be Rich and Happy, don't work for government". Get a copy of this book and read.
Let get started
What is an Investment
Platform?
Investment platform is an online company that you can invest your money in a website or Application which your money will be used for business and at the end, they will pay all those who invested in their platform.
You may Ask?
What is the best platform to invest in Nigeria?
The best platform to invest your money in Nigeria are the below platforms we provided in the article but they are many more of which we did not discuss.
What is the most profitable investment in
Nigeria?
To know the most profitable platform in Nigeria is simple, if you invest in Nigeria platform your earning will be calculated in Naira but if you invest in foreign platforms, you will earn more because of high rate of foreign currency. Check below.
Top 10 platforms To Invest money in Nigeria
The following are Investment platforms in Nigeria. These are:
To Start with number 1 Investment platforms in Nigeria.
1. RiseVest
RiseVest makes it simple to invest in assets denominated in different currencies
throughout the world.
You can invest in any of the well-managed assets with a guaranteed return of up to 14% and a potential return of up to 41% every year.
Among their most valuable assets are real estate, bonds, and stock. You can count on smart wealth management with RiseVest.
With RiseVest, your money is safe since it is overseen and supervised by ARM Trustee Ltd.
The platform includes an easy-to-use interface with an integrated tracker thatallows you to keep track of your
investments and monitor how youre performing in real-time.
You can also set investment goals using their app.
To get started with RiseVest, you'll need at least $10, following which you'll select a plan and specify a length for your investment.
All <>RiseVest accounts are encrypted using the same technology that banks employ.
RiseVest is unique in that it provides you with free professional financial planning for
your investment.
Download RiseVest
2. Bamboo
The list of the top online investment platforms in Nigeria will be incomplete if it doesn't include Bamboo.
Bamboo is a reputable investment business that provides unfettered access to over 3,000 equities listed on the New York Stock Exchange from the convenience of your mobile phone.
You may instantly load your Bamboo Naira or Dollar wallet and start investing without wasting time. You can also expand your
portfolio by purchasing an ETF (exchange-traded fund).
If you want to start investing in Bamboo, you'll need at least 20 dollars or the Naira equivalent.
However, you should keep in mind that if you invest in Naira, you can only withdraw to a Naira account, and if you invest in USD, you can only withdraw to a USD account.
When you register for a Bamboo account, you'll be asked for your BVN, as well as a valid ID and an electricity bill.
They accept Master and Visa cards as well as bank transfers as modes of payment.
The Bamboo app features a simple design with built-in technology that allows you to see a realistic view of your portfolio's performance over time so you can update your strategy and learn as you go.
You can also use the app to monitor returns on your investment purchases.
Securities Investment Protection oversees all Bamboo investments, and all accounts are protected to the tune of $500,000 by the Federal Deposit Insurance Corporation (FDIC).
Download Bamboo App.
See Also:
How to Start a Profitable POS Business in Nigeria.
3. I-invest
I-invest is a mobile application that allows investors to buy securities and other financial products without the help of a broker.
Furthermore, the app features a user-friendly dashboard for tracking various investment portfolios, as well as an easy way for small investors to save money.
At the same time, they offer competitive interest rates and the ability to support fund infrastructure programs in Nigeria while generating an income.
I-invest can be downloaded for free from the App Store and Google Play Store.
It allows users to buy Treasury Bills and Eurobonds, as well as trade stocks on the Nigerian Stock Exchange.
Visit I-invest website
4. Investment One
Investment One is a multi-faceted company that offers a wide range of financial and investment solutions throughout Nigeria.
It was formerly GTB Asset Management Limited. Investment One has provided and continues to provide new investment opportunities combined with value-added services in Nigeria's financial industry since its founding in 2007.
They take great pride in providing industry-leading solutions. Their thorough understanding of clients' demands and matching them against a large set of high-quality products offer us a significant market share advantage.
They have a team of investment managers ready to deliver quality services based on in-depth market knowledge, ingenuity, and service quality to their clients.
Visit Investment One website
See Also:How to Register a Business Name in Nigeria
5.Cowrywise
Cowrywise is a fintech startup that is transforming the African investment management business and revolutionising access to savings and investment solutions
for Africa's increasing middle class and youth generation.
They are creating online savings and investing lifestyle for the next wave of rich Africans, with over 350,000 clients.
Cowrywise is a Combinator business and the first Nigerian company to be admitted into the JP Morgan and UKAID-backed Catalyst Fund program.
You can invest in low-risk, medium-risk, and high-risk products with CowryWise.
Most of these investments span mutual fund schemes, the agriculture sector, and other third-party money market commodities.
It thrives on a 10% savings rate, while investment rates vary slightly.
Visit Cowrywise Website
6. PiggyVest
PiggyVest is West Africa's premier digital "Savings & Investment" platform. When they first started as "Piggybank.ng" in 2016, they were merely a savings tool.
For three years, they solely offered
discounts to loyal customers. Then, in April 2021, they changed their name to "PiggyVest" and started providing customers with direct investing options in
addition to savings.
After 5 years, they have continued to provide exceptional service to their 1,000,000+ users, assisting them in managing their finances with ease and integrity.
Every month, their users collectively save and invest billions in Naira they would have spent otherwise.
PiggyVest objective is to "empower
everyone to effectively handle and increase their finances.
Visit PiggyVest Website
7.Carbon
Carbon is one of Nigeria's most popular
online investing platforms, offering a wide range of digital financing options.
They began in the digital financing industry as a loan app, but today provides a variety of services ranging from savings to money transfer and investing.
With as little as 100 Naira, you may begin investing in Carbon and earn up to 16% each year. You can also select a time frame for your investment, which runs from 3 to 12 months.
To invest with Carbon, first choose an investment plan (Cash Vault, Goals, or Flexsure), then enter the amount you wish to invest, the length, and finance with a bank account or card.
Your money is secure with Carbon. One
Finance and Investment Ltd, a CBN-licensed and regulated company, manages all of the funds.
When investing, you have the flexibility to invest for 3, 6, or 12 months at a rate of up to 16 percent.
Visit Carbon website

Kuda Bank, once known as KudiMoney, is a revolutionary fintech platform that promotes innovation in Nigeria and beyond. It capitalises on its 'bank of the free' slogan by providing a variety of cost-free services to its members.
Kuda Bank, like a handful of its competitors, pays a 10% interest rate on savings. It also
offers its customers low-interest loans.
 
9. SumoTrust
SumoTrust is an online saving and investment platform that is assisting Africans in improving their bad savings and
investment habits. If you want funds to begin a business, rent an apartment, purchase a house, buy a vehicle, go shopping, pay college tuition, and so on.
SumoTrust will help you set aside money and work toward your investment goals.
Visit SumoTrust website
10. KolоPау
The KolоPау savings platform in Nigeria allows you to save money for any particular goal for any period of time.
Additionally, you can share your savings plan with loved ones (friends, friends and family). This will enable them to contribute to the realization of your savings goal.
KoloPay has an impressive yearly interest rate of up to 10% and withdrawal fees of up to 5% if you withdraw before the deadline.
Which platform is best for investment?
If you carefully Read the aboved investment platforms in Nigeria, you will understand the one that will be good for you because to me all are good.
Conclusion
To sum it all, if you are looking for online platform to invest in, these are best Investment platforms in Nigeria. You can invest your money and earn massive income.
Thank for Reading.
Have you found this post useful or inspiring?
Let us know your thought by commenting below.