Chicken Republic Minna is a restaurant situated at bosso, opposite Obasanjo complex Minna, Niger state.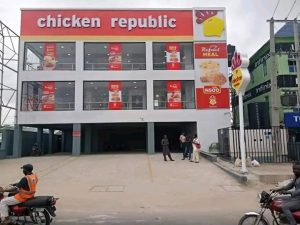 Chicken Republic has steadily become a popular destination for young minnalite who seek to eat and entertain themselves at very affordable prices.
The destination is a popular spot for mini birthday parties, surprises and some nice chicken delicacies.
You can check out the eatery for yourself. It's located at Obasanjo complex Minna.
Chicken Republic Minna price list
Chicken Republic is very cheap. You order anything from N500 and above.
Chicken Republic offers the following services. These are:
1- Eatery
2- Relaxation
3- Space for occasion. Example: Birthday, Get-together E.t.c.
Chicken Republic Menu
Do you want to see Chicken Republic menu online?
Good. you are in the right place Click here and the see the Menu
You may want to know;
How many chicken Republic stores are in Nigeria?
Base on our foundings, we have more than 50 Chicken Republic in Nigeria.