School
Imam hamzat college of health technology Courses
In this article we shall be looking at imam hamzat college of health technology courses and school fees.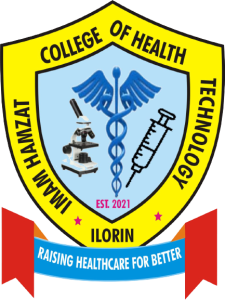 Imam hamzat college of health technology
Imam Hamzat College of Health Sciences and Technology is a private institution established to meet the increasing challenges of our educational system in Nigeria.
The College is lying at its Permanent Site situated at Oko-Olowo Area, Along New Jebba Expressway, Ilorin, Kwara State. The College was duly approved by the Kwara State Ministry of Tertiary Education, Science and Technology, Ilorin.
The Institution is privately owned and funded by
Fadhilat Sheikh Imam Hamzat Yusuf Abdulraheem Ariyibi, of Ariyibi Compound, Oke-Apomu in Ilorin, Kwara State, an extra ordinary Islamic Cleric, a Philanthropist and God-fearing (humble) achiever.
His track records as a lover of education (both Arabic and Western Education) loom large and wide through his Islamic Training Institute (Kuliyyah Imam Hamzah Littalimi-l-Arabiy Wad- Dirasatil-Islamiyah) and Secondary School is known as IMAM HAMZAT GROUP OF SCHOOLS. It is reputed for consistent academic excellence, hard work, and integrity, have occupied top positions in the SSCE (WAEC/NECO/NABTEB) Examinations in Kwara State.
Imam Hamzat College of Education courses
The following are the list of courses offered at Imam Hamzat College of Education.
1- National Diploma in Health Information Management (2 years)
2- Health Information Technician (3 years)
3- National Diploma in Nutrition Dietetics (2 years)
4- Medical Laoratory Technician (3 years)
5- Pharmacy Technician (3 years)
6- Herbal Medicine (2 years)
7- Complementary Medicine (2 years)
8- National Diploma in Community Health (2 years)
9- Community Health Extension Worker (CHEW) (3 years)
10- National Diploma in Dental Therapy
(2 years)
11- Dental Technician (3 years)
12- National Diploma in Environmental Health Technology (2 years)
13- Environmental Health Technician (3 years)
14- Public Health (2 years)
15- Health Education (2 years)
16- National Diploma in Health Information Management (2 years)
17- Health Information Technician (3 years)
Imam Hamzat School Fees
The school fees of imam hamzat college of health technology is estimated to be N120,000