School
federal polytechnic nasarawa courses
In this article we shall be looking at federal polytechnic nasarawa courses, cut off Mark and school fees.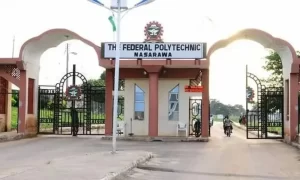 federal polytechnic nasarawa
Federal Polytechnic Nasarawa, abbreviated FPN, is a tertiary institution in Nigeria commonly referred to as FedPolyNas or simply FPN. The school was established on 1 July 1983 by the Federal Government of Nigeria to foster technological development in the society.
federal polytechnic nasarawa courses
The following are the list of courses offered in Federal polytechnic Nasarawa. These are:
1. ACCOUNTANCY
2. AGRICULTURAL ENGINEERING/TECHNOLOGY
3. AGRICULTURAL TECHNOLOGY
4. ARCHITECTURAL TECHNOLOGY
5. ARTS AND DESIGN
6. BANKING AND FINANCE
7. BUILDING TECHNOLOGY
8. BUSINESS ADMINISTRATION & MANAGEMENT
9. CHEMICAL ENGINEERING TECHNOLOGY
10. CIVIL ENGINEERING TECHNOLOGY
11. COMPUTER SCIENCE
12. ELECTRICAL/ELECTRONIC ENGINEERING
TECHNOLOGY
13. ESTATE MANAGEMENT AND VALUATION
14. LIBRARY AND INFORMATION SCIENCE
15. MARKETING
16. MASS COMMUNICATION
17. MECHANICAL ENGINEERING TECHNOLOGY
18. OFFICE TECHNOLOGY AND MANAGEMENT
19. PUBLIC ADMINISTRATION
20. QUANTITY SURVEYING
21. SCIENCE LABORATORY TECHNOLOGY
22. STATISTICS
23. SURVEYING AND GEO-INFORMATICS
24. URBAN AND REGIONAL PLANNING
federal polytechnic nasarawa cut off mark
The official cut off Mark of federal polytechnic Nasarawa is 120.
federal polytechnic nasarawa school fees
The school fees of federal polytechnic Nasarawa is estimated to be N40,000 to N50,000.
federal polytechnic nasarawa hostel fees
The hostel accommodation of federal polytechnic nasarawa is estimated to be N10,000