School
American University Yola school fees
In this article we shall be looking at American University yola school fees, cut off mark, courses offered and hostel fees.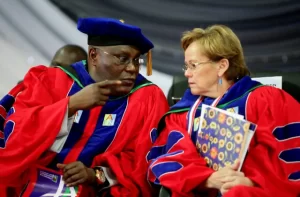 ABTI american university yola
The American University of Nigeria is Africa's first development university, offering international undergraduate and graduate programs.
The following are list of courses offered in American University yola. These are:
1- Accounting (BSc)
2- Business Administration (BSc)
3- Chemical Engineering (B.Eng)
4- Communications and Multimedia Design (BSc)
5- Computer Engineering (B.Eng)
6- Computer Science (BSc)
7- Economics (BA)
8- Electrical/Electronics Engineering (B.Eng)
9- English Literature & Languages (BA)
10- Entrepreneurship & Management (BSc)
11- Information Systems (BSc)
12- Natural and Environmental Sciences (BSc)
13- Petroleum Chemistry (BSc)
14- Politics and International Studies (BA)
15- Software Engineering (BSc)
16- Telecommunication Engineering (B.Eng)
17- Bachelor of Laws (LLB Honors)
American University Yola school cut off mark
The official cut off mark of American University yola is 1
American university yola school fees
The official school fees of American University yola is between N1850,000 to N2660,000. Depending the kind of course you choose to study.
American university yola hostel fees
The hostel accommodation of American University yola is between N360,000 to N650,000. For more information Click here