In this article we shall be looking at Sokodeke Biography.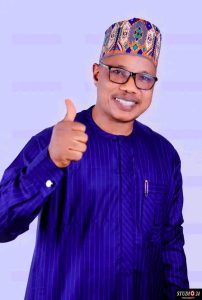 Sokodeke
Alhaji Ibrahim Sokodeke was born in the year 1969, 10
October in Bida Local government Niger state into the family of late Muhammadu kudu Ibrahim "Ya kudu" (Salama Nupe) and late Hajiya Maimuna Ibrahim.
Ibrahim was named after the death of his paternal grandfather Nma Kuso who is at then Hakimi Jeba and a islamic cleric who is a brother to HRH Alh.(Dr.) Yahaya Abubakar (Etsu Nupe) from kusodu family.
Ibrahim originated from royal clan of kusodu dynasty, he was 12years when he had his Quranic graduation with the current imam of kin-Nupe Mall. Adamu Yakatun since before he finished his primary education.
Ibrahim begins his primary education from dokodza primary school and later join South
primary school Bida which is now called Abubakar Anike Primary School Egbangbara
Bida. He proceeded to Ndayako Secondary school Bida in 1981 and graduated 1988 as the first set of graduated students of the school.
After which he gained admission into Zungeru College of Administrative Studies (ZUCAS) in Zungeru Niger state where he had a 1 year course and later when the Campus was relocated to Bida he had his 2years
Professional Diploma at that period he was already a civil servant working with the state
government under Ministry of Art & Culture.
He didn't stop there and proceeded to University of Abuja as a versatile Political
Scientist and a correspondence students with Ahmadu Bello University Zaria where he studied international Relations as additional course.
Ibrahim have a penchant for Engineering as a field of study after he met some of his friends who are from Egypt and Libya, where he was attached with professionals in construction company which lead him to visit Wusih city in
china, Shanghai and Mongolia (great wall) etc.
He had a 3 months training on hydro test, pilling, drilling, casing and Beam.
Ibrahim is an Administrator, BusinessMan and Engineer. He had his first project in
Bayalsa State the project which was in collaboration with Delta State government to construct Bridge in Ndukwa West/South in
Kwale community.
Ibrahim is found of having many names which has covered his real name like "Sokodeke" and "Talban Samari" this name were giving to him following many antecedents.
Sokodeke in English means "God Has/have More" he realized this name when he wanted to establish a company and he decisively register his companies and Organizations with Sokodeke. He is the Chief Executive Officer of
1. Sokodeke Global Foundation
2. Sokodeke Global Kago Travels
3. Sokodeke Global Services.
Through Sokodeke Global Kago Travels helped allots of Pilgrimages on Financial
advice and assistance which he become a link between the pilgrimages and Jaiz Bank to help in loan and related financial services.
Through Sokodeke Global Services he was the
first person to give loan of Vehicles to workers of the late Etsu Nupe Dr. Umaru Sanda Ndayako. He also extended this project to Federal Polytechnic Bida where he also give loan to Staffs and Non staffs in other to help their transportation problems.
Through Sokodeke Global foundation which focuses on Humanitarian services and Social development has empowered Youths and women, provided Books to Primary school students, provided chairs to primary schools
through Kin-Nupe Development Network where he doubles as Financial partner.
Talban Samari is a traditional tittle conferred on him by HRH. Alh. (Dr) Yahaya Abubakar Etsu Nupe & Chairman Niger state traditional
holders through chiroman Nupe, this was due to his tremendous contributions to the
kingdom.
All this can be regards as an essential component of leadership.
communication is also vital, anyone who would by now got the chance to talk with Alhaji
Ibrahim Muhammad sokodeke you will agree with me that he is a Leader and he have ways of conveying what he stand for. He is a decent speaker and an engaging interviewer.
If I were forced to list the absolute number one
qualification of him i would say experience and background in major life battles, epic conflicts that have help in shaping how real political
giants ought to be.
He is a leader who possess boundless energy and the ability to respond to unexpected crises.
He has the appearance of boldness. He is genuinely courageous, and able to resist
orthodoxy. He is a leader who is indifferent to criticism and attacks from people.
This information was gotten through the blog of Umar Faruk