Chipper cash Registration.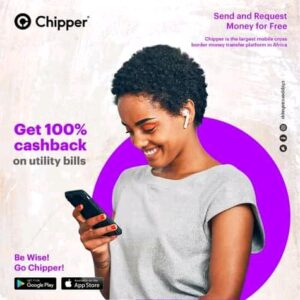 In this article, we shall be discussing the following;
What is a Chipper Cash?
Chipper Cash is an application that we use to Send and receive money across Africa and beyond. Very fast and easy way. Enjoy free transfers and the lowest cross-border rates.
Transact Across Africa & Beyond.
Move money across town, across Africa or across an ocean. This app is the borderless way to send and receive money.
Is chipper cash legit
Yes, is trusted & Secure and over 4 million people securely sending and receiving money with the application.
chipper cash fees
Send your money Free of charge within your locality and Low fees Cross-border.
More money stays in your pocket, and more money arrives in theirs.
As Fast and Easy as Sending a Text Send cash in just a few taps and watch it arrive instantly.
Chipper Cash registration
1- Download Chipper Apk
2- After downloading app, login and Register with your phone number.
3- After Registration go to verify account and verify your account with your BVN.
4- If you wish to get referral bonus, then go to Earn in your dashboard and put this code T687N in "Enter Referral Code".
5- Send The Sum of N1,100 to any chipper cash user.
6- Wait for 24hrs to receive your referral bonus.
chipper cash verification
1- Go to verify account and Verify your account with your live selfie of your phone.
2- proceed and insect your BVN for confirmation.
3- Wait a few minutes, your account will be verify.
How to earn money on chipper cash
Step 1: Go to the "Earn" tab in your app
Step 2: Share your referral link by tapping "Invite a Friend" to invite users who are not on Chipper.
Step 3: The invited user must create a Chipper account using a phone number and not an email address. (N.B. The invited user must not add an email address to their account until 48 hours after all referral conditions are met)
Step 4: Each person referred must create their account with their device and complete all requirements on the same device.
Click here to download Chipper Apk
Step 5: The invited user must get their account verified by submitting their relevant ID documentation
Step 6: The invited user must send a minimum amount of GHS 5 / TZS 2000 / UGX 5000 / NGN 1,100 / R30 / GBP 1 / GBP 5 / USD 25 to any other Chipper user.
Step 7: Both the invited user and the person that made the referral will receive the bonus amounts in their Chipper wallet automatically 24 hours after all the above conditions have been met.
How to share or find your referral code
Go to the 'Earn' tab
Tap 'Invite a Friend'
Tap 'Copy' to copy your referral code or tap any contact to directly share your referral code referral
Is my bvn safe with chipper cash
Yes, your BVN is safe and secure.
How can I use Chipper Cash in Nigeria?
You can use chipper app to send,received and even save your money.
Click here to download
Chipper Apk
Chipper Cash investment
With your chipper app account you can invest your money and earn big in return.
You can invest as low as $1-(N500).
Goto investment and check the available stock now.
Have you found this post useful or inspiring?
Let us know you mind by commenting below.
Thanks.