Suleja Niger sate is one of the popular city of Niger State, Nigeria. It located alone Abuja, kaduna express way, the capital city of Nigeria.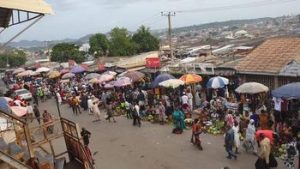 history of suleja
Suleja was formerly known as Abuja before before the Nigerian government adopted the name from the then Emir Sulayman Barau for its new federal capital in 1976.
Suleja was established in the early 19th century by Mohammed Makau, the last Hausa emir of Zaria and his followers who
were fleeing the Fulani jihadists of Usman Bin Fodio engaged in the conquest of northern Nigeria.
Abu Jatau who was brother to Muhamman Makau the then king of Zazzau, founded the town of Abuja in 1828. It will be correct to say Abuja was drive from his name "Abu Jatau" (Abuja).
At this point you may want to know how many kilometers from suleja to abuja?
The total straight line distance between Suleja
and Abuja is 27 KM (kilometers) and 600 meters. .
Where is suleja located in nigeria
Suleja is located Abuja – Kaduna – Zaria Express Way/Murtala Mohammed Expy/A234, Niger State.
The miles based distance from Suleja to Abuja is 17.1 miles
Towns in Suleja
The following are the list of town's and villages in Suleja. These are:
1- Apia
2- Buru
3- Burum
4- Bwoi
5- Chimbi
6- Chizako
7- Dachine
8- Dwakoro
9- Gauraka
10- Gupena
11- Gusun
12- Ibo
13- Ikume
14- Jigbodo
15- Kopu
16- Kuchin Pwele
17- Kutudibi
18- Kwalada
19- Kwamba
20- Kwankashe
21- Lafu
22- Madalla
23- Madugu
24- Maje
25- Muran
26- Nabulic
27- Numewa
28- Padawa
29- Rafin Kaffi
30- Suleja
31- Tunga Gwuntu
32- Yagun
33- Yaldna
34- Zahehna
Places in Suleja
The following are the some important places in Suleja. These are:
1- Suleja Local Government Area Secretariat
2- Alh sani zurmi street, Suleja
3- Hassan dallatu road, Suleja
4- Kuspa Area,after Prison Yard Suleja.
5- airtel office suleja
6- A.P.C quaters Suleja.
7- P.D.P secteriate Suleja.
8- Zuma FM Suleja.
suleja market
The Suleja Modern Market in Niger State, officially referred to as IBB Market, is rated as one of the busiest markets in the whole country.
Suleja Market is known for having
quality products.
suleja market days
Sunday is Suleja Market known as IBB market and Saturday is Gwagwa Marke.
Suleja prison
Suleja prison is one the top prisons in Nigeria which is located at madalla in Suleja town.
zuma barracks suleja
Zuma Barrack, Suleja is located at: kaduna road, Suleja.