School
kwara state polytechnic cut off mark
In this article we shall be looking at kwara state polytechnic cut off mark, courses offered and school fees.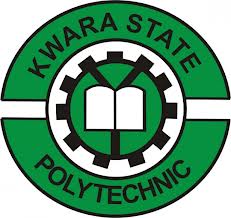 kwara state polytechnic ilorin
Kwara State Polytechnic is a Nigerian tertiary institution
that was established in 1973 by the then Military
Governor of Kwara State Col. David Bamigboye after the
decision of establishing a polytechnic in Kwara State
was announced in 1971. It is located in Ilorin, the capital
of Kwara State.
kwara state polytechnic courses and cut off mark
The following are the list of courses offered in kwara state polytechnic. These are:
1. ACCOUNTANCY
2. AGRICULTURAL ENGINEERING/TECHNOLOGY
3. AGRICULTURAL TECHNOLOGY
4. ARCHITECTURAL TECHNOLOGY
5. BANKING AND FINANCE
6. BUILDING TECHNOLOGY
7. BUSINESS ADMINISTRATION & MANAGEMENT
8. CIVIL ENGINEERING TECHNOLOGY
9. COMPUTER SCIENCE
10. ELECTRICAL/ELECTRONIC ENGINEERING
TECHNOLOGY
11. ESTATE MANAGEMENT AND VALUATION
12. HOSPITALITY MANAGEMENT
13. LEISURE AND TOURISM MANAGEMENT
14. MARKETING
15. MASS COMMUNICATION
16. MECHANICAL ENGINEERING TECHNOLOGY
17. METALLURGICAL ENGINEERING TECHNOLOGY
18. MINERAL RESOURCES ENGINEERING
TECHNOLOGY
19. OFFICE TECHNOLOGY AND MANAGEMENT
20. PUBLIC ADMINISTRATION
21. QUANTITY SURVEYING
22. SCIENCE LABORATORY TECHNOLOGY
23. STATISTICS
24. SURVEYING AND GEO-INFORMATICS
25. TRANSPORTATION PLANNING & MANAGEMENT
26. URBAN AND REGIONAL PLANNING
27. WELDING AND FABRICATION TECHNOLOGY.
kwara state polytechnic cut off Mark
The official cut off of kwara state polytechnic is 120.
kwara state polytechnic school fees
The school fees of kwara state polytechnic is estimated to be N90,000.