School
Command Secondary School Suleja
Command secondary school suleja is located at Zuma barrack, Suleja, Niger State, Nigeria. This is Federal secondary school established in so many state in Nigeria.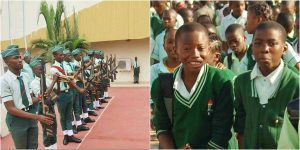 History of Command Secondary School Suleja
The Command secondary school was established on the 29 of September 1977 by the Nigeria Army to provide affordable and quality education to the children of their officers that reside in the barracks even during their posting. The school, a co-educational military school, was made open for all citizens of Nigeria some years later.
The school was established as a private military school that would involve specialized military training. Currently, there are over 25 command secondary schools in the country. The command secondary school is managed by the Directorate of Command Schools Service, an arm of the Nigeria Army.
Command Secondary School Suleja School fees
The school fees of command Secondary school depends on the status of parents.
Command Secondary school is estimated to be N50,000 above.
command secondary school suleja portal
www.Command.scl.com