In this article we shall be looking at Kantigi Biography, his family and net worth.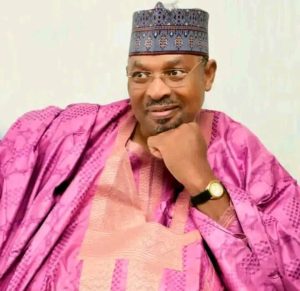 Liman Kantigi Biography
Isah Liman Kantigi was born and brought up at kantigi in Edati local government of Niger state, Nigeria.
He is a nupe by Tribe he was the former commissioner and chirman of Edati local government Area.
Alhaji Isah Liman Kantigi has achieve alot. A shrewd businessman and great politician.
He was once interview about his physical appearance. And how reply is as follows;
"Dear Nigerlites,
My name is Isah Liman Kantigi, I am mentally sound, medically fit, God in his wisdom created me with one of my legs slightly immobile from the ankle, does that make me less human or less Nigerlite? I am a patriotic Nigerlite and Nigerian, several opponents have made it a source of mockery or attack, that is between them and my creator who designed me like this and made them like that.
What the job of a Governor requires are innovation, creativity, ideas, supervision, mental alertness, exposure, sacrifice and most importantly compassion with patriotism. I have them all.
I am ready to serve you with all my heart, just like I have done in several places I have worked, in my businesses and in my family.
In Edati, as Council Chairman, I built several Hospitals, supplied electricity to over 20 villages, built Secretariat, Paid Salaries on or before 25th of every month with festive bonuses, built Housing project, built roads, built schools, gave teaching aides and subsidized input into Agriculture, we took care of people's welfare and ensured security, I was only a council Chairman. I won the the most performing council of the 25 LGAs of Niger state several times.
Just imagine if I was a Governor, i would have done everything in a larger scale and across the state, I was not, now the opportunity is here to employ me as your Governor.
As the son of a rural farmer, an Islamic knowledge teacher, I know the challenges facing our people, I was born with them, raised with them and still live within them, some people even call me a village man.
Destiny has also taken me far and wide, to developed and developing societies and nations, I have studied and understood the metamorphosis of rural communities into urban societies and also understands the management of urban cosmopolitan societies.
It is this experience and track record that I am coming with as a Governor. The people's Governor, Nigerlite for Nigerlites.
I invite everyone to join me because only "Together We KAN" develop our dear state to the admiration of the world".
Pass Track Record of Isah Liman Kantigi
The following are the projects executed under Isah Liman Kantigi during his time as commissioner and chirman of the local government.
1. Construction and furnishing of Administrative offices (Chairman and supervisors office).
2. Construction of perimeter fence round the LGA secretariat
3. Installation of 500/33 KVA TRANSFORMER at Enagi town.
4. Construction of Chief Magistrate court at Enagi town
5. Construction of Shariah court at Enagi town
6. Construction of Microfinance Bank at Enagi town.
7. Construction of corp members' lodge at Enagi.
8. Construction of Governor's lodge in Enagi town.
9. Construction of Senior staff quarters called workers village.
10. Grading of some feeder roads e.g
✓ Dikko to Guzzan,
✓ Dikko to Rokota
✓ Dikko to Kwale,
✓ Gogatta to Guzzan and to Kantigi
11. Construction of road from Ekosa Nagya through Sakpe to Kantigi village (44 km).
12. Drilling of several boreholes across the entire Edati LGA.
13. Drilling of industrial borehole at Edati~Donko.
14. Construction of Gatta bridge
15. Construction of Ije bridge
16. Provisions of free drugs to all the clinics in Edati LGA.
17. Procurement and provision of free anti snake Venom and
injections
18. General renovation of numerous primary schools across Edati LGA.
19. Procurement and purchase of learning materials to all the primary schools in Edati LGA.
20. Electrification of over 30 communities in Edati LGA e.g
✓ Guzzan community
✓ Ekosa Nagya
✓ mafo
✓ Edogi
✓ Sakpe
✓ Fada 1 to 5 nos.
✓ Mawogi
✓ Kantigi
✓ Chingini
✓Gonagi
✓Gatta
✓ Wadatta
✓ Gata like
✓ Kukpakpan
✓ Ezhigi
✓ Ndalada
✓ kagba
✓ Ekoko and many more.
21. Prompt payment of workers' wages and salaries.
22. General welfarism to the good people of Edati LGA.
23. Sponsored more than 1000 Muslims to perform pilgrimage in Saudi Arabia and over 100 christian pilgrimage to Israel.
24. Employed over 200 indigenes of Edati LGA into civil service of Niger state.
25. Procurement and supply of Agro equipment and chemicals to boost agriculture across Edati LGA, etc.
Isah Liman Kantigi Net Worth
The Net worth of Isah Liman Kantigi is unnon to us but we can estimated it to be N100Billion.
Isah Liman Kantigi Family
Isah Liman Kantigi was happily married and bless with Children.