School
Global vision school suleja
Global Vision School Suleja is a place where pupils and students are giving the best education.
Global Vision School Suleja Provides Qualitative and Quantitative Education for all.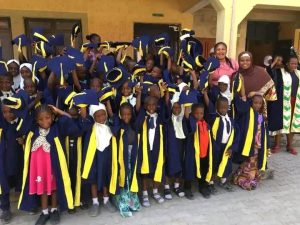 Global Vision School in Suleja, Suleja local government area near Abuja. Although located in Niger State, the closeness of Suleja to the Federal Capital Territory (FCT) has impacted on the population of the ancient city, almost stretching to the edges, vital infrastructure including learning facilities.
As a way of filling the vacuum in addressing the educational needs of the people of Suleja and the state in general.
Global Vision School was established on January 7, 2007 by the executive director, Alhaji Usman Abdullahi Adegboyega.
At inception, it had only a Nursery and Primary school.
However, in September of the same year, the school was moved to the permanent site located by B-Division Police Station, Gazunu Road, Suleja, where the secondary section was established.
The approval was given by the Niger State government for it to operate a primary school on January 6, 2009 which was later upgraded to a junior secondary school on February 26, 2009. The vision of the institution was on the premise of building a school with a passion for standard, excellence and qualitative educational system that will generate benefits to stake holders and the society in general.
Its mission is to raise a reputable generation by enhancing educational development in Nigeria through the establishment of a school of international repute. It also on the core values as: patriotism, dedication, high academic standard, great vision, commitment, efficiency and team work.
visit Global Vision website. www.globalvision.com